Model FC-P6D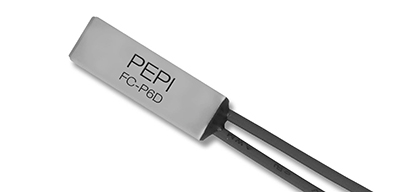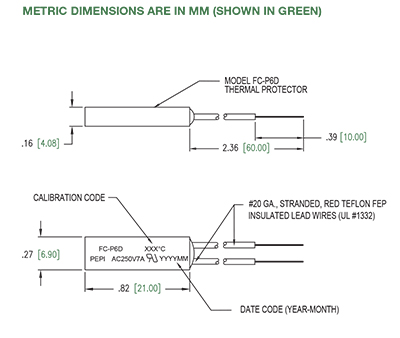 Metric Dimensions are shown in mm (Shown in green)
Copyright ©, Portage Electric Products, Incorporated
All rights reserved.

This shunted snap action thermal control is a new addition to the Valstat™ Series of economical solutions for protection in motor, transformer, lighting and other applications. Since the bimetallic element does not carry the circuit current, the FC-P6D devices primarily react to temperature changes, creating less derating than with current sensitive devices.
Features
---
Snap-action design, quick break/quick make switching action.
Ultra compact design with a high switching contact rating.
Shunted design: Bimetallic element does not carry current. Device makes or breaks circuit primarily based on temperature. This results in reducing the internal heating effect of the device when used in applications with higher current loads.
Preset Calibration temperature; not adjustable in the field.
PBT thermoplastic case allows for a Maximum Exposure temperature of 170°C for 24 hours.
Case has a Dielectric strength of 1,500 VAC for 1 minute or 1,800 VAC for 1 second with no arc.
Contact Ratings
---
10 AMPS/125 VAC
7 AMPS/250 VAC
These ratings are applicable for 6,000 cycles
Calibration Range
---
Available from 50°C to 150°C in increments of 5°C. Standard opening tolerance is ± 5°C
Reset temperature approximately 30 to 35% lower than the opening temperature
Standard Configuration
---
FC-P6D Thermal Protectors are equipped with 60 mm wires stripped 9.5 mm, #20 gauge red Teflon insulated wire (UL #1332)
Custom lead lengths are available from 30 mm to 300 mm.
Other configurations available, contact factory for further information
Standard Marking System
---

 Click Here