Model J Series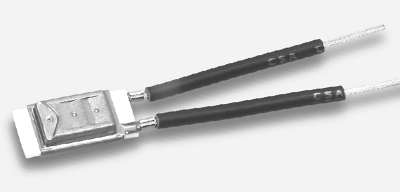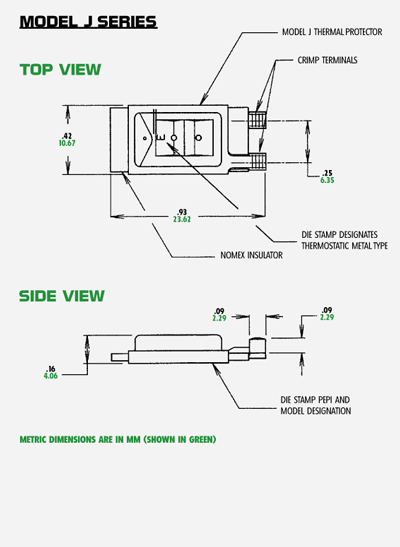 Metric Dimensions are shown in mm (Shown in green)
Copyright ©, Portage Electric Products, Incorporated
All rights reserved.

A snap-action thermal protector excellent for use in motor, transformer, and lighting applications with ratings for 120, 240, and 277 VAC loads.  Available with various bimetallic elements to match the current sensitivity of the device to the application.
Features
---
Conductive bimetal construction; the bimetallic element carries the circuit current for maximum sensitivity under short circuit conditions.
Snap-action device; quick make/quick break switching action.
6 bimetal variations available from the low sensitivity model J(B) to the maximum sensitivity model J(J)
Temperature differential between opening and closing can vary from 10° C to 70° C depending upon the no-load calibration temperature. Tighter differentials may be available upon request.
Preset calibration temperature; not adjustable in the field.
Case electrically alive; insulating sleeving is available.
Available with factory applied lead wires.
Contact Ratings
---
15 amps 120 VAC inductive
10 amps 240 VAC inductive
10 amps 12 VDC resistive
5 amps 24 VDC resistive
VDE certified
Calibration Range
---
Available with nominal calibration temperatures from 60°C to 160°C
Standard Marking System
---

 Click Here