Model H-7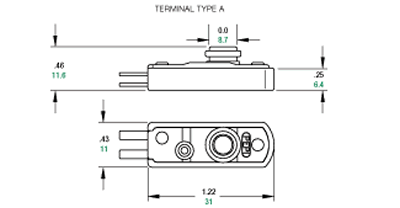 Metric Dimensions are shown in mm (Shown in green)
Copyright ©, Portage Electric Products, Incorporated
All rights reserved.

These Snap Action Thermostats operate as a high limit, single operation (non-resettable) type control.  Ultra fast thermal response times due to the unique positon of the bimetal element.  The ceramic case allows them to operate at temperatures up to 260°C.  As single operation thermostates they perform like a thermal fuse with the reliability of a 100% tested bimetallic thermal control.
Features
---
Snap action devices; quick make/quick break switching action.
Single Operation type devices. Reset temperature is less than -35°C. This prevents the thermostat from resetting under normal operating conditions.
Unique positioning of the bi-metallic element allows for excellent heat transfer for improved reaction time.
Available with exposed bi-metallic elements for even faster thermal response.
Ceramic case isolates devices from the electrical circuit and is suitable for use in high temperature applications.
Can be mounted directly on a heated surface.
Preset calibration temperature, not adjustable in the field.
Opposite end termination allows for flexibility of installation.
Factory installed lead wires or terminals available – Consult Factory.
Contact Ratings
---
15 amps / 250V AC (resistive)
CUL, TUV
Calibration Range
---
Available with nominal calibration temperatures from 200°C to 260°C.
Applications
---
Almost anywhere ultimate safety is required. Included are curling irons and many other small appliances.
Standard Marking System
---

 Click Here